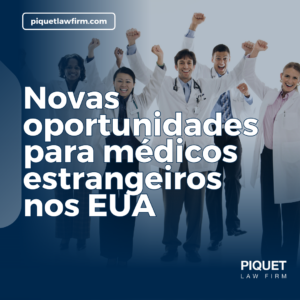 Great news! Aiming to address the shortage of healthcare professionals, the HB 1312 law approved in Tennessee allows for temporary hiring without the need for residency. During the first two years, they will have a provisional license, supervised by licensed physicians. After this period, they will receive unrestricted licenses.
The shortage of healthcare professionals is a growing concern in the USA. The deficit of doctors by 2030 is estimated to be almost 6,000 professionals, with over 1,100 vacancies in primary care alone. It is essential to diversify the medical workforce to meet the needs of primary care, oral health, and mental health. 
For doctors interested in working in the USA, there are immigration visa options such as the EB-2 NIW and EB-1 visas.
Contact us for an analysis of your immigration eligibility.
WhatsApp: +1 (786) 812-2930
Source: Gazeta News
https://www.gazetanews.com/imigracao/2023/07/468915-tennessee-aprova-lei-que-permite-contratacao-temporaria-de-medicos-estrangeiros-sem-residencia.html